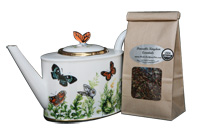 Herbal Loose Leaf Teas for People
Please feel free to sip some tea while perusing this page
If you don't see a tea product, please email us--we'll try to get it for you!
Samurai Cut Weight Loss Tea
Samurai Cut is our best selling tea because it works! The results are amazing!!! This weight loss tea provides you with the right blend of ingredients that naturally boost your metabolism to help you burn calories, enhance your energy, and drop the weight. The next time you go to the store, check out the ingredients in any Rapid Weight Loss Capsules. You will find many of the same ingredients you find here in a tea that is certified organic and totally healthy. Combines Yerbe Mate Tea, Green Tea, Cinnamon and Orange peel. Go ahead and try it! What do you have to lose, but weight! Only, if you dare??

Certified Organic.





---

Organic Red Rooibos Tea
AMAZING TEA! KEEP READING!!! Rooibos Tea - pronounced ROY-boss. Native to the mountains of South Africa, Rooibos Tea is prized for its great flavor and contains important minerals and vitamins. It boosts anti-viral, anti-spasmodic, anti-allergic properties as well as anti-oxidants nearly 50 times more active than green tea! In addition, it has iron, magnesium, potassium, fluoride, calcium, vitamin C, zinc, manganese, and fair amounts of alpha-hydroxy acid known to promote healthy skin. Naturally caffeine-free, it helps relieve insomnia, nervous tension, indigestion, and allergic symptoms. Recent research also indicates that it contains the highest known levels of anti-aging properties of any plant on earth. Truly a tea that should be part of everyone's daily diet. Our Rooibos Tea is 100% certified organic and of the highest quality. Antioxidants 50 times more active than green tea? They should teach us this stuff in high school !!! Order your Red Rooibos today and start enjoying the incredible health benefits of this tea for you and your family.

Certified Organic.





---

Organic Bancha Leaf Green Tea
An incredibly light tasting green tea with a mild stimulant. Recent studies indicate it has anti-tumor properties that may show promise in preventing the development of cancer! On top of that, it boosts concentration and mental acuity! It helps relieve migraines and gastrointestinal complaints, lowers cholesterol, improves circulation, burns fat and carbohydrates. What more could you ask from a simple tea? Besides being Certified Organic, it is incredibly affordable and easy to use. Order some peppermint or spearmint to add to this already delicious tea to change up the taste and the picture of your health!

Certified Organic.





---

Peppermint Leaf Herbal Tea
Organic Peppermint tea promotes healthy digestion. It is 100% organically grown peppermint leaf cultivated under ideal conditions in the Pacific Northwest high desert region of North America where its volatile oil content is optimized by long hours of late summer sunlight. Mint leaf?s long history of traditional use spans the entire globe and today it is one of the most widely used herbal tea ingredients as a single herb tea or as an integral part of multi-herb formulas. During its several thousand years of consistent use by diverse populations mint leaf preparations have been used in both eastern and western cultures to support the gastrointestinal tract and the biliary duct digestive functions.

Certified organic.





---

Spearmint Leaf Herbal Tea
The aerial part of this herb is used medicinally. Spearmint has properties similar to peppermint. It's been used for treating stomach upsets, nausea, heartburn, and mild indigestion. Spearmint is milder than peppermint and is sometimes preferred over peppermint for children. Spearmint is also a popular flavoring agent. Spearmint is used to settle a stomach where there is vomiting and nausea and it is helpful for morning sickness during pregnancy. It has a calming and soothing effect on the stomach and will help to eliminate gas. There is no toxicity in Spearmint so it is an excellent herb to use for even the sickest person.

Certified organic.





---

Organic White Peony Tea
This is the highest grade of white tea available. White tea from the Fujian province of China. White Peony, known locally as Pai Mu Tan, is a delicate tea made from tea buds collected and withered prior to opening. The latest medical findings suggest that white tea contains 20 times the antioxidants as green tea and it may be a more effective cancer fighter than green tea. These findings have brought white teas to a much wider audience. Because it is a premium loose leaf tea, you can enjoy up to 6 infusions per teaspoon!

Certified organic.





---

Morning Sun Herbal Blend Tea
Wake up your taste buds with a mega burst of Lemon! Made with the smooth taste of Yerbe Mate to curb hunger cravings and spark your energy, and loaded with Lemongrass, Lemon balm, Lemon verbena, Lemon peel and a hint of Licorice root to bring the morning sun into your tea cup!

Certified organic.





---

Chamomile Flowers Herbal Tea
Chamomile (Matricaria chamomilla) has been described by Germans as "Alles zutraut", meaning "capable of anything" due to their belief that chamomile can relieve many ailments. The active ingredients are found in the essential vola oils from the flowers of chamomile. Research has demonstrated that apigenin is the ingredient responsible for chamomile's anti-inflammatory, calming, mildly sedative and anti-spasmodic effects. Other constituents including Azulene, Chamazuline, Bisabolol and Matricine also have anti-inflammatory effects. Enjoy a cup of Chamomile Tea to relax you before bedtime. Order today!

Certified organic.





---

Organic Raspberry Green Tea
Amazing! A blend of Chinese green tea, known for helping fight and prevent certain types of cancer and other disease, dried raspberries, full of additional antioxidants, and natural raspberry flavor, our Organic Raspberry Green Tea offers natural sweetness and delicate body enjoyed hot or cold. An inviting berry aroma combined with finely prepared green tea makes this a longtime favorite. Our customers love it!!! And, of course, it is

Certified organic.





---

Battling Bamboo Pain Relief Tea
Ever had a tension headache so tough that it felt like the inside of your head was being rattled like bamboo in a hurricane? Never fear, Battling Bamboo is available here. Ease your pain and your mind with some African Honeybush Tea, Peppermint, Feverfew, Black Haw Bark, Gingko, Lemon Balm and a few deep breaths. This unique combination has helped many of our customers find long awaited natural pain relief. Try it today and if you are not completely satisfied, we offer a money back guarantee. It's that good. But only, if you dare??

Certified organic.





---

Twilight Herbal Blend Tea
The subtle tastes of this relaxing blend of Green Rooibos Tea, Calendula flowers, Lavender, Rose petals, Raspberry leaf and Orange peel, take you by the hand and into the twilight...

Certified organic.





---

Wipe Out! Cleanse Tea
Wipe Out! Cleanse Tea is a detox tea that will work well to help cleanse the colon, kidneys, liver and intestines, and it has a delightful flavor. A blend of Green Tea, dandelion root, oatstraw, red clover blossoms, peppermint, alfalfa, bilberry, rosehips, ginger root, and burdock root. Drink two- three cups throughout the day when you are planning to stay close to home (effects are different for each individual). Cleanse! The fastest way to feel better immediately.

Certified organic.





---

Pin Cushion Diabetic Tea
Every diabetic knows what it feels like to be a pin cushion. Relax and enjoy African Honeybush Tea, Alfalfa, Licorice Root, and Red Clover Blossom. This unique blend contains no caffeine and is naturally sweet enough to enjoy without adding sugar or honey

Certified organic.





---

Organic White Tea Tangerine Flavored
Each sip of White Tangerine bursts with the scent and sweetness of juicy, fresh-picked tangerines. This healthy, light, wonderfully fragrant tea is made from the finest quality white tea from the Chinese province of Fujian. White teas contains 20 times the amount of antioxidants found in green tea.

Certified organic.





---

Chill Menopausal Support Tea
Tame those hot flashes with a smooth blend that tastes great steaming hot or icy cold. Made with Green Tea, Lemon Balm, Lemongrass, Chaste Tree Berries, Oatstraw, Horsetail, Hibiscus flower and a smidgen of Purple Sage. Relax girl, and Chill...

Certified organic.





---

Iron Clad Tea
Boost your immune system and help knock down colds, flu, and bronchitis with our special blend of the highest quality white peony tea, goldenseal root and spearmint. White Peony Tea contains 20 the amount of antioxidants of green tea, goldenseal root, a Native American medicinal staple, serves as a broad-spectrum antibiotic, antiseptic, antiparasitic, antiviral and an all-around defensive agent. The spearmint helps soothes membrane inflammation and adds a delicious flavor.

Certified Organic.





---

Organic Yerba Mate Herbal Tea
Yerba Mate contains a chemical compound called Mateine, which is thought by many authorities to be identical to caffeine with one exception, it doesn't cause jitters. Like caffeine, it has a stimulating effect on metabolism. A faster metabolism not only means you burn more calories, it means you turn more calories into energy. As it stimulates the metabolism into turning more calories to energy, it simultaneously soothes the nervous system. You feel less nervous and anxious, and you're better able to resist physical and mental fatigue. Athletes drink it to improve physical endurance and performance; students and executives drink it to improve concentration and alertness; families drink it to improve their overall health and to protect against stress. Start enjoying its benefits today.

Certified organic.