About Us
Meet Our President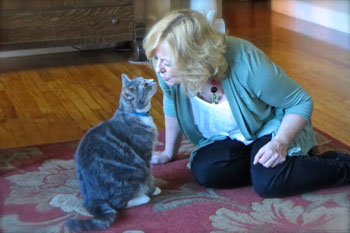 CINDY WENGER- CEO, President, Owner
Cindy Wenger began her impressive 15+ year career working with people and their animal companions as an animal behavior consultant and now runs an up and coming pet related company in the USA. Cindy started Peaceable Kingdom Essentials in 2010 after completing and obtaining certification in herbal studies. She found that there was a growing demand for quality, natural, organic products for pets. To fill this demand she started focusing on formulas to address the more common issues facing people and their pets. Our animal companions are affected by the health challenges of modern day living. Pollution, poor nutrition, processed foods, stress and an overall unhealthy lifestyle can be contributing factors to a variety of health issues. Physical, emotional and mental conditions and illnesses that are very similar to those experienced by humans are now becoming more common place in our pets.
With this in mind, Cindy is focused on growing the concept the right way. She is passionate about creating a safe, natural alternative for the pet's well-being and people's peace of mind. Cindy's vision is evident in the experience being delivered in each remedy every day. Her high standards and expectations for strategic thinking, aligned with disciplined execution, have been critical to Peaceable Kingdom Essential's successful growth. She is constantly looking to develop more natural, effective products to address other health and behavioral issues that plague our animal companions.
Cindy is active in the community and has served or currently serves on various nonprofit and for-profit boards of directors including the Unlimited Rainbow Animal Haven in Dauphin County, Pennsylvania. She is a member/supporter of the Humane Society of the United States, ASPCA, Blue Grass Shih Tzu Rescue-KY, various Sheltie/Collie rescues in PA, PAWS, Animal Law section of the Pennsylvania Bar Institute and The Ocean Conservancy.